Nueva Kaskada, Marbella
Emma and Paul´s Special Day
When I first met with Emma & Paul to hear about there plans for a wedding at Nueva Kaskada, Marbella, I was so pleased that they were with Emma's parents who's complex I lived on when I first moved here over 8 years ago. They are a lovely couple and I knew right way that Emma & Paul would be too. It was great to reminisce about things years back and I enjoyed chatting with them after such a long time.
Below are just a few of my personal favourite images and the story of their day…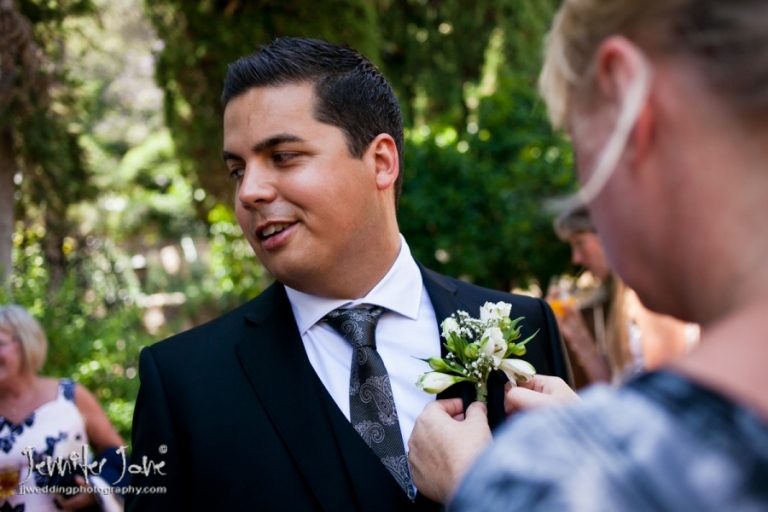 Preparation
Preparation for the Bride started in Selwo, Estepona at the home of Emma's parents and it was quite surreal being back there after all this time, certainly a trip down memory lane. A very nervous Emma was being styled by Lavish, whilst her Bridesmaids reassured her that all is going to plan with the wedding. Definitely not a showy person, Emma wasn't over keen on cameras there while she was getting ready so I was as careful as I could be to try and stay out of sight, however as you can see by the images below she is just so beautiful no matter what. I left as she was getting dressed and I sped to Nueva Kaskada restaurante, Marbella where an also nervous but very smiley Paul was meeting and greeting guests on what was already starting to be a very hot day. Guests that had travelled from colder climate countries appeared to be struggling a little with the heat already but luckily fans were given out.
Ceremony
Live classical music was played as Emma arrived with her smiling and extremely proud Dad, who I couldn't help but notice was holding back a tear as he handed her to an emotional but happy Paul. The Revd. Alan Maude was quite funny and I liked him, he had a casual but very genuine, meaningful and sincere manor. Candles were lit by the parents and an extra candle was lit in memory of an absent Grandad. The ceremony itself was lovely and Emma laughed a couple of times during it and especially when the Revd. Alan Maude mentioned that if Paul annoys her in the future that she shouldn't throw a plate at him…  but pound him with a saucepan (instead of their best china). It was quite emotional during the readings from her sister and friends and the ceremony ended with some kind words and a register signing by parents to clarify they were witness to this blessing.
Reception
Swing style music was sung as guests lined up to congratulate the happy couple while cocktails were served and people gathered to chat. Everyone started to really enjoy the day and the traditional confetti was thrown at the happy and smiling Bride & Groom. Emma & Paul did not have a planner but I was able to advise them when and where certain parts of the wedding should happen and after a short while took some family and friends aside for some photographs and group shots. The rest of the guests started to join us at the lower level of Nueva Kaskada where the meal was to be served and the evening entertainment would take place. We had just enough time for some lush green backdrop portraits, very nice and green for this time of year. The wedding flowers and table decorations looked even more gorgeous thanks to the extra effort always put in by Maryanne of In Bloom Flowers. I advised that the speeches should be before the meal if possible as it gets any nerves out of the way and allows speakers to enjoy their meal. The speeches were funny, meaningful and after some gifts were handed to people that had helped with the wedding arrangements, guests who had travelled from different countries were thanked. The food cooked by the Michelin Star chef Ewald Fichthaler was absolutely exquisite and enjoyed by all. The cake was cut to mark the end of the meal and Paul thoughtfully gave cupcakes from around it to the kids.
Party
After a nervous first dance with all eyes upon them the DJ announced the throwing of the bouquet and it was time for some dancing, fun and lots of laughter. With the lads at the bar and the women dancing with the kids it was truly a traditional and joyous occasion. I'm glad the day went well and that my advice had not backfired in any way. I guess I do know one thing after 200 plus weddings and that is the order of day that should work well for each individual occasion and I love to help when I can.
I have heard since their wedding, that celebrations went on till the early hours of the following morning and everybody had a fabulous time.
I wish Emma & Paul all the very best of luck in their futures together and hope the signs of affection that I saw between them during the day last forever.