Trash the dress – beach post wedding shoot- Playa de la Sal, Casares Costa
Joanne and Brian´s Post Wedding Beach Shoot
Trash the dress shoot time, or as i have renamed it, post wedding beach shoot!
Well, if yesterday wasn't hot, then today was certainly the hottest ever! Luckily enough I had recently invested in a huge beach umbrella to protect us some of the time. I had also bought a beach table and a huge box of props, games and accessories all perfect for the beach for a new photography shoot idea that i had. When I first met Joanne and Brian for their pre wedding shoot I put to them my new idea of a post wedding shoot that would also involve their family and friends, they loved the idea so this was going to be the perfect time to try out my new concept…..
Below are just a few of my personal favourite images and the story of their post wedding shoot…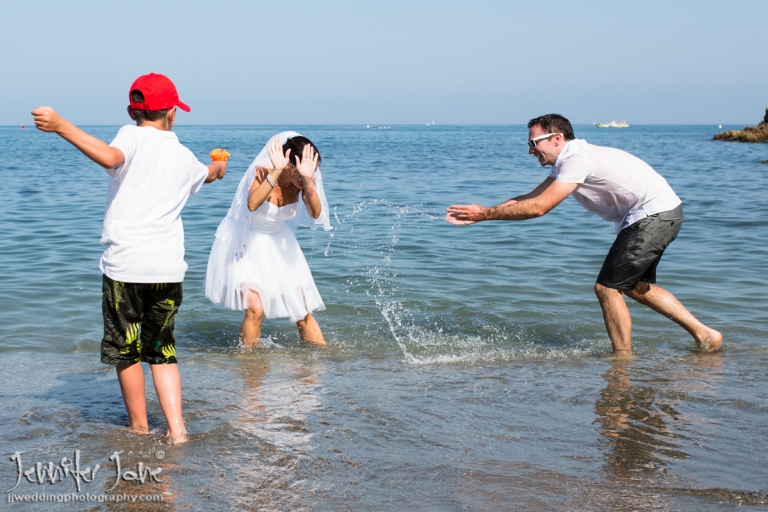 The Shoot
In the hunt for an ideal location I had previously checked out a beach that I was already familiar with near "Torre del Salto de la Mora o de la Sal" where there is an interesting choice of Beach Bars, Restaurant, plenty of sand, rocks a cave and small castle tower,and of course the sea!  This turned out to be the perfect location for this group as they would be travelling down from Gaucín with hangovers in the intense heat, so guessing they may be a little delicate from the night before we agreed the location needed to be as near to the A-377 that comes down from Ronda to the Manilva road that they were going to use.
The beautiful bride Joanne and her Husband and lovely family and friends all agreed the location was great as it had a shaded part behind, near the entrance to a small cave for a few of them that did not fancy the sun and yet they were only feet away from the others who were having fun on the sand.
Whilst everybody squirted water guns, played football, frisbee and tug of war amongst many other things, they also experimented with hats glasses and other props… we even had some attractive coloured plastic champagne glasses for them to toast with. Joanne and Brian climbed up and had a look around the rocks and after having their first fight as husband and wife (yes Joanne won the tug of war), although we agreed that Brian had had a late night, the sand was more slippery by him and in all fairness there was no real 'official' or certified referee available.
Shortly after this, Joanne then fell back into the sea (aided a little by Brian, who claimed he lost grip, but the camera never lies Brian), her Hen night "Bride Barbie" dress was now completely submerged and so I guess she took this opportunity to cool down by staying there, much to the surprise of the many onlookers by now. Despite everyone being quite tired, they were all sorry to go and all expressed what a great time they had and I think this can clearly be seen in the photographs. The shot was a great success and I will definitely being offering this kind of shot to all my future clients!
Hot, hot, hot… Fun, fun, fun and I cant wait to capture the next beach photoshoot or 'Trash the Dress' shoot.
This three day event will certainly remain rememberable for all the right reasons, a lovely couple, wonderful friends & family, great fun, game for a laugh and also something that I don't often get to say, great stamina. There is no doubt about it, a 3 day wedding can be tiring at times which is why I often recommend accounting for the occasional extra hour (to be on the safe side), but Joanne and Brian managed to keep up their pace the entire time and for this I seriously applaud them, A huge congratulations to them as newlyweds and I would like them to know that they are certainly one of the loveliest couples I have ever had the pleasure to photograph and capture their story.
I wish them all the best for their future together.