Casa La Siesta, Verjer de la Frontera
Rachel and Martin´s Special Day
Casa la Siesta situated in Verjer de la Frontera is a beautifully restored country cortijo with amazing panoramic views. This Andalucian Paradise is a great wedding venue and was the choice of Rachel and Martin.
Below are just a few of my personal favourites images and the story of their day….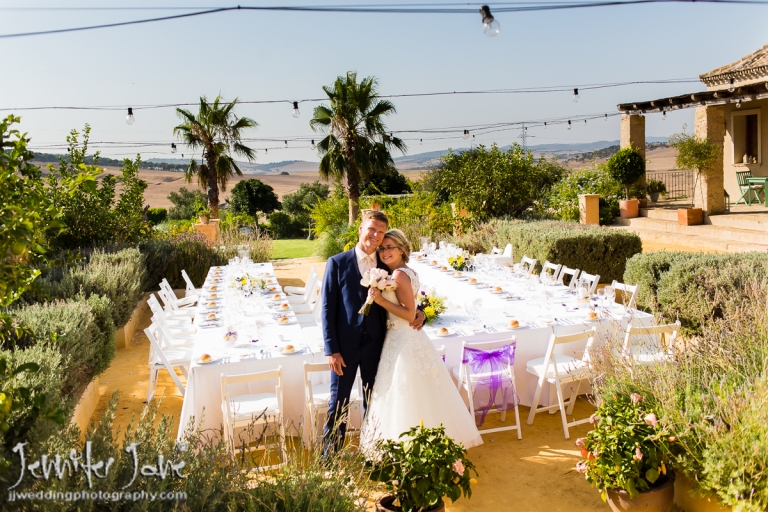 The drive to Verjer de la Frontera probably has to be one of my most favourite drives I have taken to a wedding venue, the views were absolutely breathtaking. Once I arrived at Casa La Siesta I knew the views from there would be amazing and I wasn't to be disappointed. When I arrived at the venue the atmosphere felt very calm and relaxed which is always good before a wedding. There were a few people walking around, some taking lunch and even a few children playing in the pool keeping cool in what was a very very hot day, yes even for Spain!. I made my way up to one of the top bedrooms where Rachel was starting to get ready with the help of her friends. I stayed to capture some natural photographs of the girls and then went over to where Martin was also getting ready. He was in the master suite of the Casa la Siesta and the views from this room were simply stunning. This venue is certainly a little hidden gem and well worth a visit even if you are not planning a wedding there.
After a couple of natural informal photographs of Martin with his best man I headed back to Rachel´s room to capture her putting on her wedding dress and the finishing touches to her hair and makeup. Once ready I left Rachel and her Dad and headed down to the gardens in the front of the house where the ceremony was to take place. Rachel and Martin's friends and family were gathered under the much needed umbrellas awaiting for the announcement that Rachel is on her way and the ceremony was to begin. Once they saw me they knew she would not be long and I could see Martin now appearing a little nervous.
Martin took his place at the altar ready for the arrival of his beautiful bride. As the doors opened to the gardens Martin´s face lit up as he turned to see his bride for the first time in her wedding dress. He was trying to hold back his emotions as Rachel, escorted by her Dad walked down the aisle. She too was trying to hold back the tears but as she got nearer and they were once together neither of them could hold back their emotions any longer and a few tears were shed.
The ceremony was lead by Natasha Johnson and was filled with very personal words about the two of them. It was so clear to see what a lovely couple these two are. Martin´s Mum gave a lovely personal reading followed by a very funny but moving reading by the best man. Rachel and Martin had chosen to do the tradition of the combining of the sands, representing the joining of two families. The rings and vows were then exchanged followed by a poem by Rachel´s sister to conclude the ceremony. The happy couple then shared a little kiss and took their first walk together as man and wife back down the aisle and through the beautiful gardens.
Celebrations began with some cocktails and canapés by the top swimming pool, and a flamenco show was taking place for the guests to enjoy some Spanish culture. With temperatures starting to drop just a little I took Rachel and Martin aside for some photographs of just the two of them. This is always a good time for the couple to enjoy some alone time and just take in the events of the day. We took a walk around the gardens and down to the stable area to see the grazing horses in their paddocks.
As we returned to the wedding party there was just time for another cocktails and then some more traditional family group photographs before everyone was seated for dinner.
Throughout the day Martin had been in some pain from a previous back problem that he had had. Not wanting to worry anyone he hadn´t said anything about it and had carried on enjoying the day. Unfortunately, as he had tried to sit for dinner the pain had become worse and it was quite apparent so he slipped away to his room to try and rest for a while in the hope that the pain would subside. Despite putting on a brave face all day the pain by now had got much worse and Martin was unable to move and continue the celebrations of the day. Not wanting his guests to miss out he made sure that everyone, including his beautiful wife continued on with the celebrations. Naturally it was not the same without him but everyone enjoyed a fantastic meal and then a few drinks and some dancing into the night.
I have since been in touch with Rachel and she said that Martin is well on the way to recovery dispute major problems with his back.
Rachel and Martin are truly a fantastic couple and I wish them a happy life together.